our breathtaking newsletter
Weekly gloriousness sent to your inbox.
Saturday, May 26th - 1:00 PM-1:00 PM

DERF Happy Hour
Keep checking back here to find out where the next DERF Happy Hour will be!
Jim Tressel retires to spend more time with family of sweater vests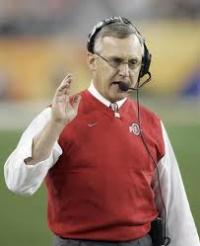 COLUMBUS, OH - Jim Tressel announced that he has retired as head coach of The Ohio State University football team in order to spend more time with his family of sweater vests. The coach's retirement is effective immediately, and came as a surprise to many outside of his sweater vest family.
"I'm looking forward to spending some long overdue time with them," said Coach Tressel. "My family of sweater vests have been so patient and supportive through the years, and now it's time for me to give back to them. Daddy is coming home my fuzzy darlings."

Tressel has always been very close to his sweater vest family, and is usually accompanied by a few of them wherever he goes. Though he was able to spend time with them in this manner, he is looking forward to being able to be with all of them as a group. "It was always nice to have one or two with me on the sidelines," he explained. "Or having a couple accompany me on recruiting visits or trips to the pawn shop, but now we'll be able to all gather together as one. I'm thinking maybe I'll pile all the sweater vests into the mini van and head to Disney for a week. They are gonna have so much fun riding Space Mountain!"

Tressel has also commissioned the creation of a giant sweater vest which wiil reportedly be worn by the newly built Touchdown Jesus at the Rock Bottom Church.

The Tressel family of sweater vests have been with him through the good times like bowl victories and a national championship. But they have also suffered through bad times, including a recent NCAA investigation. During this time, they had to endure scrutiny from the media, as well as mocking from families of sports coats and windbreakers.
Related Stories