our breathtaking newsletter
Weekly gloriousness sent to your inbox.
Saturday, May 26th - 1:00 PM-1:00 PM

DERF Happy Hour
Keep checking back here to find out where the next DERF Happy Hour will be!
Cleveland plans parade for victorious Dallas Mavericks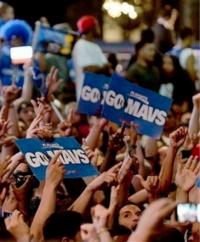 CLEVELAND, OH - Minutes after watching the Dallas Mavericks beat the Miami Heat in the NBA finals, the city of Cleveland began planning a victory parade for the victorious Mavericks. The parade will take place through Cleveland's downtown streets which will be lined with burning effigies of LeBron James.

"This isn't about being happy that LeBron James lost," explained Cleveland City Council member Richard Consolo. "This is about being absolutely frigging thrilled that LeBron lost, and that he looked like a dumbass while he was doing it." Dirk Nowitzky will be awarded the key to the city and Consolo is sponsoring an ordinance that would rename at least one street in every Cleveland neignborhood, "Dirk Nowitzki Way."

On the night of the final game, spontaneous celebrations also erupted in Cleveland, with cars being set on fire, drunken debauchery, and pockets of rioting. It is not entirely clear if these events were inspired by the Maverick victory, or if they were just part of a normal Sunday night in Cleveland.

Some Cleveland sports fans say that the parade is more about the city's love of sports. "If the Heat had won, we would have had a parade for them too," explained Tom Dombrowski. "Though, it would have been a different parade. Smaller. Just LeBron would have been invited, and it would have taken place in a dark alley in little italy instead of through the streets of downtown."

Many call this one of the best years for Cleveland sports in several decades. The Indians are in contention well past April, LeBron James did not win an NBA championship, and an NFL lockout may prevent the Browns from ever having to take the field.