our breathtaking newsletter
Weekly gloriousness sent to your inbox.

Wednesday, December 11th - 11:30 AM-10:00 PM

DERF Happy Hour
Friday, Dec 6 - 5:30PM-9:30PM
Cincinnati WalMart declines PacMan Jones greeter application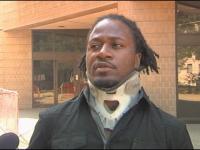 CINCINNATI, OH - After filling out several applications, Adam PacMan Jones has been alerted that WalMart is not interested in hiring him as a door greeter. The Bengals cornerback had hoped to obtain the position to earn money during a potential lengthy NFL labor shutdown.

"I've had some tragedy and sadness in my life," said Jones. "But this has me so sad I can barely see through my tears. It was always a dream of mine to be a WalMart greeter, and now I have to watch that dream die. Die like a bigmouth getting shot outside of a strip club."

Though WalMart offered no specific reason for denying Jones' application, his recent arrest outside of downtown Cincinnati nightclub, Scene Ultra Lounge, is rumored to have been a factor. "It is not fair if they used that arrest to keep me from my dream gig," said PacMan. "We're talking about two totally different situations. I wouldn't shout obscenities at WalMart, just like I wouldn't tell people to have a nice day outside of nightclubs."

With his hopes of being a WalMart greeter dashed, Jones plans to turn his attention toward getting other employment. "I suppose I'll look into McDonald's," he explained. "I've always wanted to be one of those people that walks around the place filling up old people's coffee for them. I'm just a people person, really. Always a smile on my face. And it's not just a strain from the neck brace either."

Still, the hurt of being turned down by WalMart continues to haunt PacMan. "What I'm really going to miss is that employee discount," Adam laments. "It would have saved me a fortune in gardening and scrap booking supplies."