our breathtaking newsletter
Weekly gloriousness sent to your inbox.
Wednesday, April 25th - 6:30 PM-8:30 PM

DERF Happy Hour
Keep checking back here to find out where the next DERF Happy Hour will be!
Next Nascar event to be held in downtown Cincinnati during Octoberfest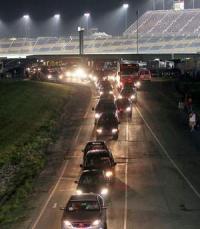 CINCINNATI, OH - Following the disastrous situation that unfolded during the Kentucky Speedway's inaugural Sprint Cup race, the region's next Nascar event is set to take place in downtown Cincinnati during the city's annual Octoberfest. The racetrack will be quickly assembled a few weeks before the event using existing roadways and downtown streets.

"We believe the Cincinnati 500 will be one of the greatest spectacles in the history of racing," said Nascar spokesman Keith McManus. "Stock cars flying past Fountain Square at 190 miles per hour, then taking the turn at 5th and Elm at a smooth 150. All the while, the drivers will be trying to avoid drunks who are wandering from booth to booth eating giant pretzels and funnel cakes."

When asked about the logistics for the race, local organizers are remaining vague. "We're not exactly sure what the route will be or how many people will show up or where they're gonna park," said Cincinnati 500 organizer Arnold Dowell. "We're just gonna wing it, mostly. Although, I do already have fourteen port-a-pottys on reserve."

There are plans for the crowd to use the parking lot at the Covington Waffle House. The lot will accommodate up to thirty cars, though that number may be smaller should early arriving fans decide to set up corn hole games. A shuttle will be provided to take fans on what is expected to be a six hour drive across the river to downtown Cincinnati.

Though there may be many problems in logistics for the event, local fans are thrilled with the announcement and are looking forward to the race. "I can't wait to see the cars racing over the bricks of Elm street," said Westwood Nascar fan Roger Abrams. "We're gonna make a whole day of it. The race starts at 5pm, so we'll leave the house at 4 and be there in plenty of time to buy a beer, a zoomer, and a chicken hat. Probably even have time to stop at Maury's Tiny Cove for a cocktail on the way. Of course, if I miss even one lap of the race I'm gonna scream bloody murder and demand a refund."