our breathtaking newsletter
Weekly gloriousness sent to your inbox.
Sunday, May 27th - 1:00 PM-1:00 PM

DERF Happy Hour
Keep checking back here to find out where the next DERF Happy Hour will be!
FOX19 Balanced News introduces new segment, Bengals 2011-12: The Super Bowl Season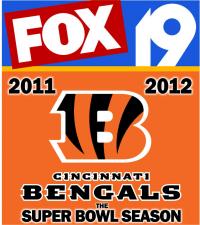 CINCINNATI, OH - In it's continuing effort to always present balanced news reports, FOX19 has introduced a sports segment series entitled, "Bengals 2011-12: The Super Bowl Season." The segments will continue until the Bengals win the Super Bowl or are mathematically eliminated from the playoffs, whichever comes first.

"Balance in news is important to us," explains FOX19 newsreader Tricia Macke. "We want to tell both sides of every story whether it is about the streetcar, politics, or sports. So, for every story we do that points out how horrible the Bengals are, we need to give that same amount of time to covering how this is a Super Bowl caliber team. The bad news is, with all of the stories about how horrible the team is, we may need to expand the news to ninety minutes in order to balance the time."

The Super Bowl Season segments will highlight great moments in the Bengals year as it progresses. The first installment will feature a fifteen minute story about how no member of the team was convicted of murder during training camp. There is also an in depth story on Mike Brown's amazing ability to name six current Bengals players, as well as naming at least four different positions on a football team.

FOX19's balanced coverage of the news will also soon expand to the weather segment. Upcoming features include: "The benefits of intense heat and humidity on skin exfoliation" and "Hurricanes: God's way of cleaning up our nation's coast line."