our breathtaking newsletter
Weekly gloriousness sent to your inbox.
Saturday, June 23rd - 7:30 AM-12:00 AM

DERF Happy Hour
Keep checking back here to find out where the next DERF Happy Hour will be!
Successful coaches seek retroactive credit for ALS ice water challenge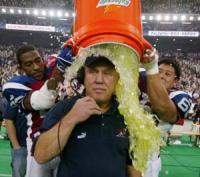 WASHINGTON, DC - Accomplished coaches from sports all across America have gathered in Washington, DC this week to request an exemption from the obligation to accept the ALS ice bucket challenge.

Since the tradition began in the 1980s, coaches have endured icy Gatorade-filled buckets dumped on their heads after winning a significant game. The tradition began in the NFL but has progressed across all sports at all levels.

A who's who of successful coaches have gathered to plead their case for retroactive ALS credit for all previous icy liquid dumpings. "No one else in society has had to tolerate this type of treatment in their workplace." said New England Patriots Head Coach Bill Bellichick. "We deserves some credit for it."

NFL Coach Bill Parcells formally addressed the ALS Board of Directors, "Essentially I have done this challenge dozens of times. I won 172 games including two Superbowls. That crazy bucket has followed me around my whole life. I have earned the right to forward the challenge to hundreds of people without ever dumping another drop on my own head."

Gatorade spokesperson Nathan Jesselink commented, "We certainly hope the coaches don't perceive a Gatorade dumping as a negative experience. It is a privilege to be fully bathed in our wonderfully sweet yet salty proprietary electrolyte formula. We have allowed the ALS Association to rephrase the promotion as the 'ALS Gatorade Challenge' and we urge America to use Gatorade for all forms of liquid recreation and bathing."