our breathtaking newsletter
Weekly gloriousness sent to your inbox.
Thursday, April 2nd - 6:00 PM-8:30 PM

DERF Happy Hour
Keep checking back here to find out where the next DERF Happy Hour will be!
Andy Dalton thrilled to be hosting fourth annual Super Bowl party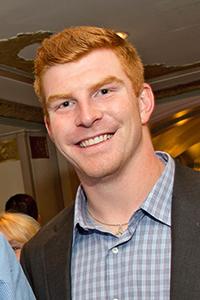 CINCINNATI, OH - Despite a first round playoff loss to the Indianapolis Colts, Bengals quarterback Andy Dalton is upbeat and looking forward to the upcoming weeks. Dalton is said to be thrilled for the opportunity to host his fourth annual Super Bowl party.

"My head is spinning with all the work I have ahead," said Dalton. "I've been so busy lately I've barely had any time to spend with my family. Every day has been consumed with hours upon hours of studying and research...dips, heavy appetizers, cocktails and punches, and of course the all important decorations and tablescapes. I've spent almost as much time preparing for this party as I did preparing for an NFL game. And by 'almost' I really mean "ten times more."

Though some of his teammates have shown disappointment over not advancing further in the playoffs, they also seem to be excited that the Dalton Super Bowl Party tradition will go on. "It goes without saying that I would love to be playing in the Super Bowl," said Bengals defensive lineman Geno Atkins. "It also goes without saying that Andy Dalton makes the best Skyline Chili dip that the world has ever known. He also makes sure that his guests never see the bottom of their glass and always have a comfortable place to sit.

"Looks like everything is shaping up to make this a magical party," said Dalton. "I'm pretty sure all of my teammates are going to come, although some of them seemed kind of mad at me when I first sent out the Evite in October."