our breathtaking newsletter
Weekly gloriousness sent to your inbox.
Thursday, July 11th - 3:00 PM-9:30 PM

DERF Happy Hour
Keep checking back here to find out where the next DERF Happy Hour will be!
Andy Dalton reads Twitter feed without crying for first time since becoming Bengal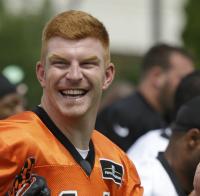 CINCINNATI, OH - It's been a very positive start for the 2015 NFL season for the Cincinnati Bengals. The team has gone undefeated and impressed fans with quality play. The season also has led to a first for quarterback Andy Dalton. This season has marked the first time Dalton has been able to read his Twitter feed without crying due to harsh criticism from irate fans.

"This has been an amazing time for me," said Dalton. "I've been able to turn on AM radio in my car without having to hear people call me names. I've been able to go grocery shopping without people booing me in the frozen foods aisle. And best of all, I am actually able to be on Twitter without reading something that makes me cry. Well, except for when I read stories about dogs who have been reunited with their families after a long separation, that always gets me. But at least I'm not crying because someone made up a hashtag involving wanting to punch me in my throat."

"Last year, I blocked Twitter on all of my devices in August," said Dalton. "But I still could not resist finding a way to look at the tweets about me. In 180 characters or less, people were calling me a quitter, overrated, a baby, a worthless piece of dung...and then there were also bad tweets that were not from my teammates and coaches."