our breathtaking newsletter
Weekly gloriousness sent to your inbox.
Saturday, June 23rd - 7:30 AM-12:00 AM

DERF Happy Hour
Keep checking back here to find out where the next DERF Happy Hour will be!
Ann Arbor sweater vest industry recovers after decade long slump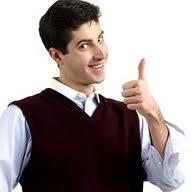 ANN ARBOR, MICHIGAN - After a decade of meager sales figures, the sweater vest market in Ann Arbor, Michigan is seeing a sharp spike in purchases. In Ann Arbor and throughout the state of Michigan, sweater vest sales are reported to be at their highest level in nine years.
"In the last two or three years, it was bleak," said Ron Washington, owner of Captain Ron's Sweater Vest Emporium. "The whole sweater vest industry in this area was on the verge of collapse. We would have seriously considered trying to get a government bailout, but I don't think our lobbyists have that much clout."

Through the last decade, sweater vest sales in the area fell proportionally to the success of known sweater vest mavin Ohio State Buckeye head coach Jim Tressel. The few sales that were being made in the Ann Arbor area were usually to Michigan football fans who were using it to dress a Tressel effigy before burning it.

"This is a great time to be a Michigan fan, and a sweater vest fan," said Ann Arbor resident and Michigan alum Tristan Wolfe. "I hate the Buckeyes, I hate the entire state of Ohio, but, dammit, I love sweater vests. They're sporty, fun, and I look damn good in them. I will always hate that bastard Tressel for taking away so many years of my sweater vest enjoyment. I've got a maize and blue one that I've had in a space bag in my closet that I'll be setting free tonight."

Though sales of sweater vests are up across all demographics in the area, they remain highest among junior high school guidance counselors, preppy golfers, and middle aged sexual deviants.