our breathtaking newsletter
Weekly gloriousness sent to your inbox.
Saturday, June 23rd - 7:30 AM-12:00 AM

DERF Happy Hour
Keep checking back here to find out where the next DERF Happy Hour will be!
Miami strippers prepare for busy season following A-Rodís suspension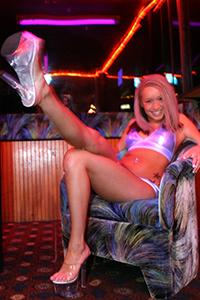 MIAMI, FL - Alex Rodriguez's suspension from Major League Baseball has had widespread consequences around the nation. While baseball players, fans, advertisers, and the New York Yankees all consider what the future will hold, strippers in A-Rod's hometown of Miami are preparing for a busy future.

"It will be good to see a legend performing in his prime," said Miami stripper Karisma Lilly. "A man really hits his prime strip club years in his late 30's, and A-Rod is right there ready to get into the swing of things. I'm going to have to do some extra squats to get my thighs ready for all those lap dances and dollar bills."

Rodriguez has always been a force in the strip club world. "He's been impressive, that's for sure," said Larry Strecker, publisher of Gentleman's Strip Club Quarterly. "He's on pace to be an all time record holder in several strip club categories. He was the youngest man to ever hit the two thousand lap dance mark, and with just a few typical years he's on pace to shatter that record in short order."

The only obstacle in the way of A-Rod finishing his strip club career as a legend are some underlying health problems. He has had surgery on both hips, and also just returned from rehab for a quadricep injury. "The hips can really take a beating during a lap dance," said trainer Dr. William Holland. "All that grinding can aggravate the points of surgery. I would recommend conducting all dances in a very comfortable and spacious booth. He should also stretch his quads a lot before making it rain."

Rodriguez will continue to collect his salary while his suspension is under appeal. He has notified the Yankees front office that he would like to receive his paycheck entirely in singles.