our breathtaking newsletter
Weekly gloriousness sent to your inbox.
Friday, November 22nd - 11:00 AM-9:00 PM

DERF Happy Hour
Keep checking back here to find out where the next DERF Happy Hour will be!
Aroldis Chapman flees to Cuba to avoid US traffic court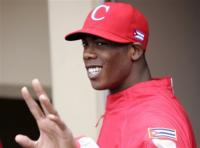 CINCINNATI, OH - Huddled together with a few other refugees and a small supply of rations, Cincinnati Reds reliever Aroldis Chapman has fled to Cuba in order to avoid US traffic court.

In the early morning hours before dawn, Chapman boarded a makeshift raft on the banks of the Ohio river outside of Great American Ballpark. Six other men who face similar charges involving suspended licenses and speeding tickets joined him on the tiny vessel, and they began a journey that will take them to the Gulf of Mexico and eventually their destination of Cuba. Their only possessions included dried beef, a few tattered blankets, and $147,000 in cash representing the sum total of one of Chapman's bank accounts.

Cuban President Raul Castro has offered asylum to Chapman. "We wish Aroldis godspeed on his journey," said Castro. "May his flight from the oppressors of the American traffic courts lead him to breathe free in this land of paradise. We promise that he can drive as fast as he wants here. Although, most of our vehicles begin shaking violently if you get them up over 35 MPH."

Chapman is not the first Cincinnati sports figure in recent memory to seek asylum in Cuba. Several members of the Cincinnati Bengals attempted escapes to Cuba in the last few years. Though they may have had problems with the law in the US, Bengal Pacman Jones explains that it was not their main reason for fleeing to Cuba. "We just thought that living under a Cuban dictatorship might be refreshing after living under the oppressive rule of Mike Brown."