our breathtaking newsletter
Weekly gloriousness sent to your inbox.
Saturday, August 17th - 5:00 PM-12:00 PM

DERF Happy Hour
Keep checking back here to find out where the next DERF Happy Hour will be!
BenGals introduce new "anti-slut clause" in cheerleader contracts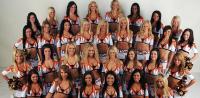 CINCINNATI, OH - In the wake of BenGal cheerleader Sarah Jones' indictment on charges that she had sex with a high school student, all BenGal cheerleader contracts will now contain an anti-slut clause. The anti-slut clause is intended to ensure that similar incidents do not occur in the future.

"We finally came to realize that this is necessary," said Bengal director of cheerleader development Tanya Collins. "We used to just get by with contracts that included a peppy-ness clause, a jiggling clause, and a heavy make-up clause, but this is obviously a different time in America."

In addition to the clause in the contract, other anti-slut precautions will be taken within the BenGals organization. "We will be looking out for and preventing sluts from infiltrating the squad at every level," Collins explained. "There will be a slut psychological profile test given at tryouts. It measures slut potential through a series of complex questions. We are very thankful to the editors at Tiger Beat magazine for allowing us to use their "Are You A Slut?" quiz from the November 2010 issue."

A BenGal spokeswoman went on to explain that the precautions are not only to prevent bad publicity, but they are also useful in building a top notch squad. "Bad publicity is among the many reasons we want to keep such characters off of the squad," said Tiffany Anderson. "Let's not forget that the uniform does not look very good if a girl has to wear an ankle bracelet monitor. It throws off the whole theme."

Though sluts will not be welcome on the BenGal cheerleading squad, they can still find work with other teams in the NFL. The Philadelphia Eagles and Oakland Raiders, for example, both boast that they work hard to ensure that their squads are comprised of at least 80% sluts, potential sluts, or teases with slutty tendencies.