our breathtaking newsletter
Weekly gloriousness sent to your inbox.
Monday, April 6th - 1:00 PM-1:00 PM

DERF Happy Hour
Keep checking back here to find out where the next DERF Happy Hour will be!
Bengals offensive plays called by same antique computer that creates WEBN playlist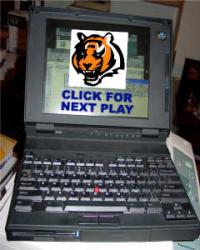 CINCINNATI, OH - Perhaps explaining the repetition and predictability of the Bengals' offense, it has been discovered that the plays are being called by the same computer that creates the WEBN music playlist.
The Bengals decided to enlist the services of the computer after discovering that replacing offensive coordinator Bob Bratkowski would not be good for the organization. "Bob has been loyal to the franchise for many years," explained Mike Brown. "And since he has a contract, we'd essentially be throwing money away by firing him. Plus, he brings in the most delicious donuts to the office every Friday. Not generic ones, either. Busken. Bob is a first class guy."
The computer is a 1990's era IBM ThinkPad located near WEBN's Kenwood studios. Use of the computer to call the Bengals plays is a part of the same contract the Bengals organization has with Clear Channel radio to broadcast the games.
"Adding a program to the computer that runs football plays was not difficult at all," said Clear Channel IT coordinator Kelvin Zerhicks. "Instead of Metallica, Nickleback, AC/DC, and John Cougar, we just substitute 'run, run, pass, punt."

There was a slight problem with the system during the Bengals game against the Miami Dolphins. As quarterback Carson Palmer listened to his headset in anticipation of hearing the next play call, he was instead shocked to hear a Godsmack song. "I was lucky to call the time out before we got a delay of game penalty," explained Palmer. "Then they played a block of Linkin Park, so I rocked out during the time out."