our breathtaking newsletter
Weekly gloriousness sent to your inbox.
Thursday, April 2nd - 6:00 PM-8:30 PM

DERF Happy Hour
Keep checking back here to find out where the next DERF Happy Hour will be!
Seahawks accused of deflating Bill Belichick's Sleep Number Bed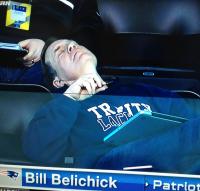 GLENDALE, AZ - The New England Patriots announced today the start of investigation into possible tampering with Coach Bill Belichick's Sleep Number Bed. The investigation reportedly started after Mr. Belichick reported trouble sleeping during the last several nights while perapirng for Super Bowl XLIX.
"Mr. Belichick depends on a consistent level of support from his Sleep Number Bed every night. A closer look at the bed indicates the sleep number was lowered considerably below the coach's preferred sleep number. The tampering possibly happened during the initial set up of the Sleep Number Bed upon it's arrival at the hotel in Glendale, AZ." said a team spokesman.
An anonymous source inside the Patriot's organization said a witness reported seeing several Seahawks players posing as Sleep Number Bed technicians involved in setting up the bed.
Mr. Belichick commented, "My normal sleep number is 66 which also happens to be my career win-loss percentage. But our equipment manager found it was set at 57 which happens to be Pete Carroll\'s career win-loss record. It's too early to tell if that is a coincidence. In any case, I can't sleep with a sleep number that low and I wouldn't be able to sleep if my win-loss record was that low."
The Patriot's organization reported Tom Brady's bed shows no signs of tampering. "Mr. Brady sleeps on a bed of Super Bowl rings melted down and molded perfectly to his body. The bed is then coated with fresh rose petals each evening."