our breathtaking newsletter
Weekly gloriousness sent to your inbox.
Saturday, August 17th - 5:00 PM-12:00 PM

DERF Happy Hour
Keep checking back here to find out where the next DERF Happy Hour will be!
Carson Palmer collecting boxes behind grocery stores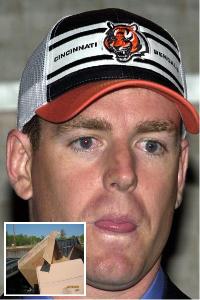 CINCINNATI, OH - Further fueling conjecture that Bengals quarterback Carson Palmer will no longer play in Cincinnati, he has been has reportedly been seen gathering cardboard boxes from behind local grocery stores. This news comes a week after reports surfaced that Palmer may be selling his Indian Hill home.
Palmer was captured on security camera video rummaging through the dumpster behind a local Kroger, tossing larger cardboard boxes into the back of his truck. Some of the boxes he threw landed where he wanted them to but most of them sailed away into the beds of other pickup trucks. Observers were not sure if the errant tosses could be blamed on Palmer, or if his truck was at fault for running the wrong route. Palmer suggested a little scouting intelligence wouldn't have hurt.
"I thought I had more boxes in the basement," said Palmer. "But then I remembered I loaned them out over the years to Corey Dillon, TJ Houshmandzadeh, Neil Rackers, Shayne Graham, Eric Ghiaciuc, Justin Smith, and a couple dozen other guys whose names I don't remember."
Palmer went on to say that collecting the boxes was not difficult. "I didn't mind going through the trash. Though sometimes it was hard to find what I was looking for with all those unsold boxes of "Ochocinco's" breakfast cereal in the way."
When asked why he did not just pay a moving company to provide the boxes, Palmer explained, "I'm trying not to spend much money in this county because the taxes just end up going to Mike Brown.

Palmer told reporters he also plans to return the rented PODS container on his driveway as soon as his borther Jordan moves out of it.