our breathtaking newsletter
Weekly gloriousness sent to your inbox.
Friday, December 13th - 5:00 PM-10:00 PM

DERF Happy Hour
Keep checking back here to find out where the next DERF Happy Hour will be!
Carson Palmer demanded trade at half time of Bengals game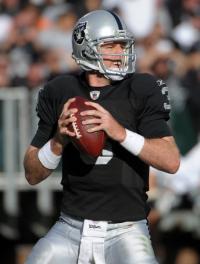 CINCINNATI, OH - The Oakland Raiders organization has confirmed that Raider QB Carson Palmer demanded a trade during half-time of the Bengals-Raiders game at Paul Brown Stadium. Palmer threatened to retire if he was not traded to a new team by the time the second half began.

"Look, I'd rather retire and spend my days as a WalMart greeter than spend one more minute with this organization. I have $80 million in the bank and I don't need this." said an emotional Palmer as he burst into the Raiders locker room at halftime. "So get on the phone and trade me for a couple of draft pics or a kicker on injured reserve or some dirty pictures of cheerleaders or something."

"I wasn't really sure how we were gonna finish the game," said Raiders Head Coach Dennis Allen. "But no one likes a quitter, so I started making calls to get Carson traded. Not too surprisingly, there wasn't a lot of interest. I actually thought the Bengals were going to make me an offer, but the long pause I heard when we called them was suppressed laughter. The best deal we came up with was from Penn State, who offered us free use of their practice facility if we traded them Carson to be their locker room monitor."

In the end, Palmer calmed down and rescinded his demands. "I let my temper get the best of me," Palmer relented. "Maybe it's something in the air in Cincinnati that makes me want to get out as soon as possible. I'm just glad the Raiders were willing to take me back. Although, I had to promise them that my brother Jordan would mow everyone in the front office's lawn for the next year."