our breathtaking newsletter
Weekly gloriousness sent to your inbox.
Saturday, June 23rd - 7:30 AM-12:00 AM

DERF Happy Hour
Keep checking back here to find out where the next DERF Happy Hour will be!
Chad Johnson applies for Paul Brown Stadium vendor job as a way to get on Hard Knocks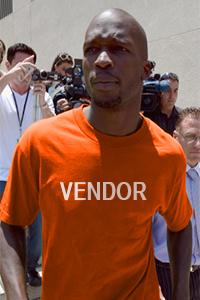 CINCINNATI, OH - After viewing the first few episodes of Hard Knocks, former Bengals wide receiver Chad Johnson's longing for camera time became so strong that he has applied for a Paul Brown Stadium vendor job.

The Bengals organization has acknowledged that they have received Johnson's application and say that they will take it under consideration. "I'm not sure how many new hires we are going to have this year," said Bengal director of concession services Tony Bearding. "We have a lot of guys who have seniority on him. Carl Pickens, Jeff Blake and Jon Kitna have all agreed to come back as pretzel vendors this year. That's a lot of talent."

Johnson decided to try for the vendors job after all previous attempts to appear on this year's edition of Hard Knocks were unsuccessful. "I tried hiding in the bushes during practice," he explained. "I was gonna pop out and say some of my hilarious and folksy one-liners, but security found me before I had the chance to get in front of the camera. I know I'd make a good vendor though. I could do a little celebration after every item I sell. The fans would love it."

Chad also attempted to get back into the limelight via other HBO documentary style shows. He has been patronizing the Moonlight Bunny Ranch in Nevada in an attempt to appear on Cathouse. He has also submitted an audition tape in hopes of appearing on the latest edition of Real Sex, claiming that he can only reach sexual fulfillment while performing a choreographed dance maneuver.