our breathtaking newsletter
Weekly gloriousness sent to your inbox.
Saturday, June 23rd - 7:30 AM-12:00 AM

DERF Happy Hour
Keep checking back here to find out where the next DERF Happy Hour will be!
Charlie Sheen offers words of hope to Reds and Cincinnati prostitutes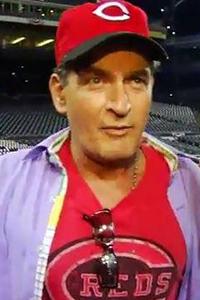 CINCINNATI, OH - Following his recent visit to Cincinnati, Charlie Sheen met with members of his favorite major league baseball team, the Reds. He took the opportunity of this Cincinnati visit to offer advice to the Reds. And, since he was in the area, he also took some time to give a few pointers to Cincinnati prostitutes.

"He was a really down to earth, nice guy," said Reds third baseman Todd Frasier. "He told us to keep our heads up and keep battling because he thinks the NL Central is wide open. He also said that we need to start focusing at the plate when Cueto pitches, because he deserves the run support. Then he said he needed to go and try to find some members of the Bengals, because he could really use some intravenous tiger venom."

Following his appearance on ESPN and his visit with the Reds, Sheen went exploring other parts of the Queen City. "Some would call it the seedy underbelly," said Sheen's publicist and personal masseuse Cynthia Wahn. "We like to call it Charlie's Mentor Zone. He went there with his message of hope...and a large number of small denomination bills."

The prostitutes seemed to be appropriately impressed by the meeting with Sheen. "He was a really down to earth, nice guy," said local prostitute Destiny Wallace. "He told us to keep our heads up and keep battling, because even though Cincinnati doesn't get major conventions in town now, with the right attitude from our regions prostitutes, that can change."