our breathtaking newsletter
Weekly gloriousness sent to your inbox.
Sunday, June 24th - 6:30 AM-10:00 PM

DERF Happy Hour
Keep checking back here to find out where the next DERF Happy Hour will be!
Andy Dalton shows more inconsistency in bye week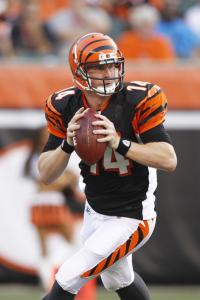 CINCINNATI, OH - Bengals quarterback Andy Dalton once again frustrated fans and confused NFL experts by having a woefully inconsistent bye week. Inconsistency has followed Dalton throughout the season and continued throughout a week in which the Bengals did play.

Dalton began the week by going out to breakfast with members of his family. "I had high hopes when breakfast began," said Dalton's cousin Mitch. "Andy ordered steak and eggs flawlessly. He was also very competent when he said he wanted a large orange juice. Then, things began to fall apart. He dropped a cup of coffee on the waitress. He smeared ketchup and hot sauce all over his toast. And then, just when I thought we were home free, he started eating oatmeal out of the bus tray.

Dalton continued with some shaky performances throughout the week. "I've seen him here at the store a couple of times," said local Home Depot employee Dan Coughlan. "This was one of his most inconsistent performances yet. Within three minutes of being in the store, he'd knocked over a paint display. About three dozen cans spilled all over the aisles. Then he somehow managed to start a fire at the key making station. He quickly rallied, however, and completed his transaction, put out the fire, and turned the paint spill into a very beautiful mosaic. If he could pull it together like that all the time, I'd put him on my hardware fantasy team, but until then, I'll have to pass."

Dalton showed similar problems with inconsistency at home. "This was a week I'll never forget," explained Andy's wife Jordan. "Andy cooked a beautiful romantic meal. It must have taken him hours to shop for all the ingredients and then cook them. He decorated the table with flowers and mementos from our life together. He hired an orchestra to play our first dance song just off of the dining room as we ate. Unfortunately, I never got to see any of it. He texted to ask me when I would be in for dinner, and then realized he was in our neighbor's house."