our breathtaking newsletter
Weekly gloriousness sent to your inbox.
Saturday, November 16th - 5:00 PM-10:00 PM

DERF Happy Hour
Keep checking back here to find out where the next DERF Happy Hour will be!
Bengals fans begin conditioning for heartbreaking disappointments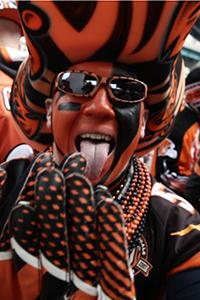 CINCINNATI, OH - With the NFL preseason is underway, teams are getting players into shape, making roster moves and and gearing up for the year ahead. In the case of Cincinnati Bengals fans, the preseason is a time to prepare for the heartbreaking disappointments coming in the months ahead.

Fans have kicked off the preseason training by watching game film of heartbreaking disappointments from season's past. "We've been putting in two-a-day practices," said season ticket holder Jamie Furman. "Morning sessions have been devoted to film of the two brutal Superbowl losses. In the afternoon we run looped montages of various dropped passes and missed field goals."

The preparation focuses not only on heartbreak that could occur during games, but the inevitable heartbreak that occurs during tailgating. These include preventative courses on how to avoid running our of beer, food poisoning from undercooked meat, and being arrested for public urination.

Psychologists are nearby during all preseason fan activities, as the emotional stress can be debilitating. "We've had some close calls," said Dr. Marvin Wellston. "There have been borderline cases where these fans looked like they were ready to snap. Looked like they were ready to start bar fights, hit a woman, drive drunk, or start using banned substances. In other words, they come right up to the borderline of behaving like the players."

In addition to the emotional preparations, physical stamina is also required before Bengal fans are subjected to the heartbreaking disappointments of the regular season. "Most of these fans are not in the best of shape," said trainer Larry Wilde. "Years of stress and emotional eating are not good for the body. We do our best to get them going on a weight regimen to make sure their tickers are up for the challenge. Every missed tackle, unnecessary injury, too many men on the field penalty, and poorly called red flag challenge or time out are like a carton of cigarettes and a crave case full of White Castles on the ticker."