our breathtaking newsletter
Weekly gloriousness sent to your inbox.
Wednesday, April 25th - 6:30 PM-8:30 PM

DERF Happy Hour
Keep checking back here to find out where the next DERF Happy Hour will be!
Bengals award game ball to area precipitation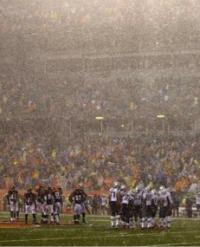 CINCINNATI, OH - Following an impressive win over the New England Patriots, the Cincinnati Bengals convened in their next practice to give the honorary game ball to a late 4th quarter rain storm. The precipitation was surprised and honored to be recognized for its contribution to the team's win.

"I've never been prouder of a force of nature," said a tearful Head Coach Marvin Lewis during the team meeting. "You, strong precipitation, went above and beyond the call of duty. Your forceful determination and blinding wetness has made this team proud. It is a great honor to present you with this week's game ball."

Though the Bengals' defense played extremely well against the Tom Brady led Patriots, it was the late 4th quarter rain storm that sealed the Bengals victory, Bengal radio announcer Dave Lapham provided detailed analysis of the rain's impact on the game. "You got a guy like Brady who is a good QB," explained Lapham. "Then you put a ball in his hand and he's like half way to the point where he can make an impact. Then, oh yeah, you dump a bunch of water on that football and make it slippery and you take some more of that water and you send it running down his face and the face of his receivers and...well....there you have it."

Though most analysts and players agreed that the precipitation was worthy of the game ball, Bengal owner Mike Brown had reservations. "Don't get me wrong," said Brown. "I appreciate the rain's efforts, and I'm thrilled that a force had such a great impact on the game without me having to put it on the payroll. However, I just don't like the idea of giving away game balls. Those things cost money. Marvin owes me ninety bucks plus shipping and handling."

STORY UPDATE:
During a celebratory night out following the game, police records indicate the precipitation was arrested for harassing a woman in the outdoor seating area of a local bar. NEWS 12 Meteorologist Tim Hedrick said precipitation can be unpredictable like this because it doesn't have a brain similar to one or two of his it's teammates arrested in similar circumstances.