our breathtaking newsletter
Weekly gloriousness sent to your inbox.
Sunday, December 15th - 5:00 PM-9:00 PM

DERF Happy Hour
Keep checking back here to find out where the next DERF Happy Hour will be!
Bengals hire Richie Incognito to bully Andy Dalton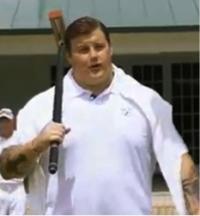 CINCINNATI, OH - Following two straight losses and some inconsistent performances from quarterback Andy Dalton, the Cincinnati Bengals have enlisted the help of former Miami Dolphins lineman Richie Incognito. Incognito has been hired to bully Andy Dalton in hopes of improving his performance.

"I'm disappointed in the team's execution," said head coach Marvin Lewis. "There are members of the team who are in need of a sense of direction and discipline that I've been unable to to instill. After over a decade of being around this sad organization, my voice is shot and my forearms hurt from shaking guys by their face masks. I think this is an excellent time to bring in that fat, hillbilly bully and see what he can do."

Incognito was quick to take the job, feeling that his suspension from the Dolphins will be a permanent separation. "I'm not exactly what you would call super employable," explained Incognito. "There's not much out there for a hulking bully with a low IQ who has been accused of racism. Back in the day, I woulda made a great busboy at Denny's, but we all know that Mexicans are stealing those jobs now."

In reality, Richie Incognito did get some interested parties looking for his services. A few arena football teams were reportedly in contact with his agent. He was also briefly recruited to be a trainer for the customer service department of Time Warner Cable. There were even rumors that he was being considered as Mel Gibson's personal trainer.

Having secured the position, Incognito says he is looking forward to getting down to work. "First, I'm gonna have to get the red-haired fairy's phone number," Incognito explains. "Then I'm gonna let that potato eating ginger freak know that wherever he turns, I'll be there. I'll also have to think up all kind of other bad names to call him. Maybe I should do some research by listening to sports talk radio. Then, once I get Dalton straightened out, I'm hoping Mike Brown hires me as a life-coach."