our breathtaking newsletter
Weekly gloriousness sent to your inbox.
Saturday, May 26th - 1:00 PM-1:00 PM

DERF Happy Hour
Keep checking back here to find out where the next DERF Happy Hour will be!
Undefeated Bengals demand immediate possession of Super Bowl Rings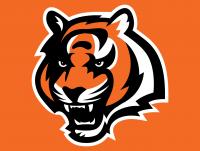 CINCINNATI, OH - Following their victory over the Cleveland Browns, members of the Cincinnati Bengals team, staff and front office have demanded that their Super Bowl rings be delivered immediately.
The request has been sent to the NFL commissioner's office and is expected to be acted upon soon. NFL commissioner Roger Goodell has not released an official comment on the demand, but is rumored to be considering complying with it as soon as his staff can confirm that the Bengals are indeed an NFL football team.

Locker room staff have been busy measuring each of the players for their ring size. "I've been looking for a new piece of bling," said Bengal running back Cedric Benson. "I just had no idea that it would be a Super Bowl ring. I guess I'll have to get a safety deposit box too, because there is no way I am going to wear something that nice next time I go to jail."

As the Bengals basked in the glory of their undefeated season, head coach Marvin Lewis warned them not to become complacent. "I know you are all excited to get your Super Bowl rings," he told the team. "But remember, the work does not stop here. If we win another game this season, then I am going to demand that we be declared the team of the century!"

Bengal owner Mike Brown joined in the festivities, and has agreed to personally deliver the rings to the players as soon as they arrive. "I have never in my life looked forward to a shipment in the mail as I am these Super Bowl rings," Brown said. "I can't wait to hand them to each member of our team. After, of course, I have a member of my staff go through them to remove any diamonds and have them replaced with cubic zirconia. I worked hard to build this team, so I deserve my cut too, you know."