our breathtaking newsletter
Weekly gloriousness sent to your inbox.
Tuesday, December 10th - 5:00 PM-9:00 PM

DERF Happy Hour
Keep checking back here to find out where the next DERF Happy Hour will be!
Samuel Jackson blushes after reading Bryan Price transcript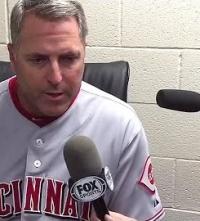 CINCINNATI, OH - Cincinnati Reds fans and the world of baseball were quite surprised to read about a profanity-laden tirade delivered by Reds Manager Bryan Price. Among the surprised is actor Samuel L. Jackson, who was seen embarrassedly blushing after reading the transcript.

"My goodness, that gentleman is in desperate need of a swear jar," said a clearly aghast Samuel Jackson. "I guess being a baseball manager is a tough job, but, wow. Using the F-word seventy-seven times in five minutes is a little bit out of bounds. If someone gave me that dialogue in a script, I'd have to turn it down because it just does not seem believable."

Though Jackson was mostly embarrassed and taken aback after hearing the tirade, he also found parts of it to be poignant. "He did really tug at my heart a few times," said Mr. Jackson. "There was some real pathos. Transcendental dialogue. When he said 'I bend over backwards to be honest and direct with you (bleeping) guys and you stick it right up my (bleeping) (bleep) — and the (bleeping) team's (bleep),' well, that really moved me. I felt like I was (bleeping) right there getting (bleeped) right along with him. Quentin Tarantino is probably really jealous he didn't come up with that riff."

Overall, however, the rant left Jackson with a touch of the vapors. "I'm not normally one to clutch my pearls," he explained. "But that was some heavy speech, especially considering the circumstances. Look, it's one thing to curse a blue streak when you're about to put a bullet in a (bleeping) guy's head, or when describing a really delicious (bleeping) burger, or when you're overwhelmed by a bunch of (bleeping) snakes on a (bleeping) plane. Bryan Price, however, was cursing about a doughy hipster being too quick to tweet baseball news. Have some (bleeping) dignity, man."