our breathtaking newsletter
Weekly gloriousness sent to your inbox.
Saturday, August 24th - 1:00 PM-1:00 PM

DERF Happy Hour
Keep checking back here to find out where the next DERF Happy Hour will be!
Reds expected to put Todd Frasiers Home Run Derby trophy on trading block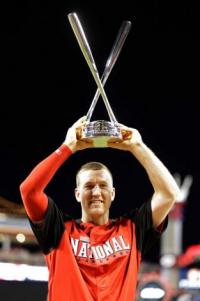 CINCINNATI, OH - Following a successful All-Star spectacular in Cincinnati, the Reds have been praised for putting on a great show for the baseball midsummer classic. Now, however, the Cincinnati Reds must get back to the business of the regular season, and thinking about the future of the team. That future would seem to include some imminent trades, and those mentioned to be on the trading block include Aroldis Chapman, Johnny Cueto, Jay Bruce, and Todd Frazier's newly acquired home run derby trophy.

"I think the All Star game was a good showcase for the Reds," said major league scout Bruce Albright. "It was a good way for them to show off some of the trade bait they'll be throwing out in the weeks ahead. Chapman came out and showed some real power in his All-Star Game relief appearance, and I know the whole league was really impressed by the form, stature, and general appearance of Todd Frazier's Home Run Derby Trophy. There are gonna be at least a dozen teams fighting over it when it goes on the trade market."

"I hate to see it go, but it's time to rebuild," said sports radio caller Dean from Walnut Hills. "I've really liked having Todd Frazier's home run derby trophy as part of the Reds organization, but we need to start thinking about the future. I say we package it up with Chapman, Bruce, Cueto, and Joey Votto in a three way trade with Toronto and the Dodgers that gives us a brand new starting rotation, two new right fielders, and new mustard dispensers for Great American Ballpark. It's the obvious way to go. Oh, and they should also throw in a manager to be named later."

Rumors abound on what the Reds may receive in return for Todd Frazier's home run derby trophy, but some think they have it all figured out. "My superior mind and sources know where this is headed," said baseball analyst Peter Gammons. "The Reds are obviously going to trade Todd Frazier's trophy to St. Louis, because they still have those Cardinal connections with owner Castellini and GM Walt Jockety. In return, the Reds will receive the Cardinals database hacking software and equipment, including a dozen spy cameras and cans of smokeless tobacco which are outfitted with listening devices."