our breathtaking newsletter
Weekly gloriousness sent to your inbox.
Friday, December 13th - 5:00 PM-10:00 PM

DERF Happy Hour
Keep checking back here to find out where the next DERF Happy Hour will be!
Area college lockdowns signal the return of Ben Roethlisberger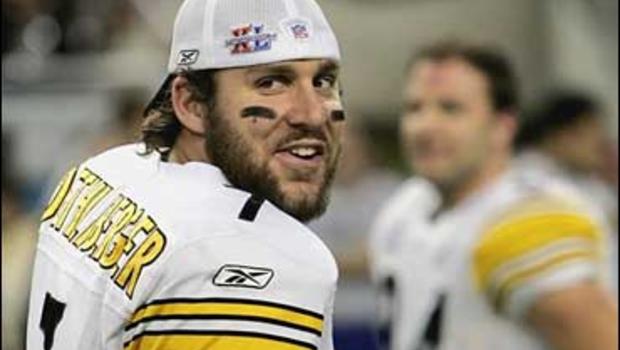 PITTSBURGH, PA - Before any official announcement from the organization, observers and fans of the Pittsburgh Steelers quickly became confident that quarterback Ben Roethlisberger would be returning to the team from his injury. The early indication of Ben coming back to his starting QB job came after Pittsburgh area colleges went on security lockdown.

Officials at the University of Pittsburgh issued a "Big Ben Lockdown," much to the dismay of many students, though others were delighted. "Sure I know it means I have to stay in my locked dorm room," said student Leslie Grant. "But it also means that Ben Roethlisberger will be back behind center for the Steelers on Sunday. I've got him on my fantasy team. Fantasy football team, of course. Any other kind of fantasy does not involve Ben Roethlisberger, and if it ever did, campus services recommends seeking help from a counselor."

At Carnegie Mellon University, officials alerted students to a "Code Yellow," indicating that Ben Roethlisberger was likely to be sighted in the area and presumed healthy. "Shortly after the Code Yellow horn blasted our team had everything together," said Carnegie Mellon Security Chief Derek Holland. "Extra security has been installed around every restroom on campus. Students have been asked to not wave Terrible Towels or bottles of Boone's Farm wine, as they have been known to attract the perpetrator."

At Duquesne University, various factions on campus have been arguing about the best way to handle a Ben Roethlisberger lockdown alert. "We have a strict policy against carrying firearms on campus," said University President Office spokesman Maury Lewis. "However, many are now saying that it might be a good idea for just such an occasion. Although Ben is presumed to be unarmed, he is very well known for being all hands. Even if it isn't necessary to shoot him, a quick poke to the groin with a revolver doesn't seem like a bad idea."