our breathtaking newsletter
Weekly gloriousness sent to your inbox.
Monday, April 6th - 1:00 PM-1:00 PM

DERF Happy Hour
Keep checking back here to find out where the next DERF Happy Hour will be!
Wii tennis match between Cooper Manning and sister Olivia draws little media interest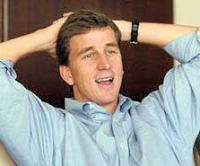 NEW ORLEANS, LA - While Peyton and Eli Manning squared off in a much-hyped battle dubbed by the media as "The Manning Bowl," their mother and brother competed in a Wii tennis match that went largely unnoticed.

Manning matriarch Olivia suggested the match to Cooper after getting sick of watching him mope around the house. "When Cooper gets bored, he starts getting into trouble or else he ends up eating an entire jar of peanut butter with his bare hands," said Olivia. "So I thought I would keep him occupied with video games."

The opening moments of the match were tense, as Cooper refused to use the Wii avatars of either Peyton or Eli, and spent almost an hour creating his own. "I wanted to make sure my 'Mii' was cooler and more intimidating than anyone elses," said Cooper. "I succeeded. My Mii is a bad ass"

Cooper won the first set handily, cruising to a 6-3 finish. Deciding she did not want to be swept, Olivia was inspired to step up her game and actually rose up from the couch instead of playing while seated. As a result, she won the second set 6-4.

At this point in the match, the lack of media interest seemed to upset Cooper. He pulled the plug on the television and the Wii unit while pretending to chase a mouse behind the Manning's couch.