our breathtaking newsletter
Weekly gloriousness sent to your inbox.
Saturday, August 17th - 5:00 PM-12:00 PM

DERF Happy Hour
Keep checking back here to find out where the next DERF Happy Hour will be!
NFL Commissioner Roger Goodell tweets about Ochocinco's tweeting fine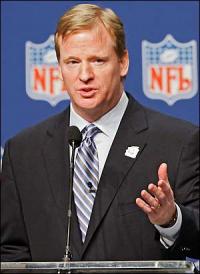 CINCINNATI, OH - After the NFL handed down a $25,000 fine against Bengal's wide receiver Chad Ochocinco for tweeting during a game, NFL Commissioner Roger Goodell made the announcement via his Twitter account. Mr. Goodell followed up during the week with numerous tweets concerning the decision.
Goodell provided additional perspective as a well as response to harsh criticism from millions of Twitter users. "To those who say NFL=No Fun League, I want people to know we allow fun but not with Twitter." was the first of dozens of tweets Goodell sent out expressing his opinions regarding the decision to fine Ochocinco.

Other tweets included, "People don't want to read what Chad has to say. They'd rather listen to trained football analyst, Ron Jawarski, during the game." and "Who Dey think gonna tweet on the sideline? Not Ochocinco!"

When questioned by media officials about the approriateness of using Twitter to make official NFL communications, Goodell explained, "I support my actions because Twitter is a wonderfully efficient way to get our message out there."
Goodell's most recent tweet explained, "This is my final tweet on this topic. I need to get back to tending my Farmville crops via Facebook mobile for Blackberry. I'm getting behind in Mafia Wars also."

After receiving a great deal of feedback from the Ochocinco tweets, Goodell decided to change his Twitter name to RogerCinco in an effort to attract more followers.