our breathtaking newsletter
Weekly gloriousness sent to your inbox.
Sunday, December 15th - 5:00 PM-9:00 PM

DERF Happy Hour
Keep checking back here to find out where the next DERF Happy Hour will be!
Jordan Palmer threatens to retire if Carson is not traded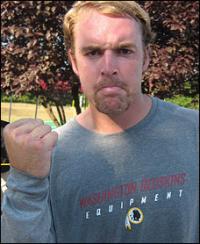 CINCINNATI, OH - In a show of solidarity, backup quarterback Jordan Palmer has announced that he will retire from professional football if the Bengals do not trade his brother Carson. The threat sent shock waves through the Cincinnati sports world and the Bengals front office.
"Let it be known that I am drawing a line in the sand," said Jordan Palmer. "Trade my brother, or I am going to shut down my illustrious NFL career and focus 100% of my efforts on my phenomenal internet sensation RunPee.com." Jordan then said that any and all questions should be directed to his agent, as soon as he hires one.
The Bengals have announced that they do not plan on honoring Carson Palmer's demand to be traded. It is not known how they will respond now that the future of their franchise back-up quarterback is part of the equation. Bengal fans were also shocked by the news. "I know this organization has its problems," said fan Tony Parsons. "But I thought we could count on the consistency of seeing Jordan Palmer holding a clip board on the sidelines every Sunday for years to come. I'm not sure I will renew my season tickets if Jordan retires."
When asked if he would like to be traded to the same team as his brother, Jordan responded that is not his intention at all. "Nope, I just want to support Carson in his quest to leave. I will do whatever the team wants me to do. I promise to throw interceptions for touchdowns just as good as he did, and I can pretend to eat a John Morrell hot dog just as well too."

Jordan said he consulted with Cooper Manning before deciding to take a stand in support of his brother. "Cooper told me he would withdraw from next year's NFL draft if it would help either of his brothers, Eli or Peyton, in their contract discussions."
Related Stories