our breathtaking newsletter
Weekly gloriousness sent to your inbox.
Thursday, December 12th - 5:00 PM-9:00 PM

DERF Happy Hour
Keep checking back here to find out where the next DERF Happy Hour will be!
King James decides to split self into six equal parts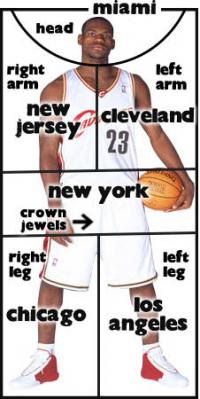 CLEVELAND, OH - After much soul searching, King LeBron James of Cleveland has decided to appease all six NBA teams seeking his presence by severing himself into six equal parts. The six parts will then reign in Cleveland, Chicago, Miami, New York, New Jersey, and Los Angeles.

Many fans of James in the six locations were thrilled to find out they would have at least a part of him in their city. "This is the best news we've had in a long time," said New Jersey resident Delores Sabatino. "New Jersey is chock full of random body parts, but none of them are this special."

The actual separation of King James into six parts will take place during a live televised news conference on the newest ESPN channel, ESPN Lebron. King James will perform the cutting himself supervised by his management team.

Plans are for the left arm, which also includes the heart, to stay in Cleveland. The right arm will go to New Jersey because LeBron has often stated he would give his right arm not to live in New Jersey. The head will go to Miami where it can be mounted near the Miami Heat Arena entrance and then loaned to Heat players such as Dwyane Wade during the off season. King James' lower torso containing the Crown Jewels will go to New York for visitors around the world to admire year round. The right leg and left leg will got to Chicago and Los Angeles respectively.

Many insiders believe King James' plan to sever himself may be a ruse designed in the style of the biblical story involving Judge Solomon who threatened to sever a baby in half to settle a dispute between two mothers who both claimed the baby was theirs. Possibly by threatening to cut himself into pieces, King James hopes to learn more about the depth of each NBA team's true feelings for him.

Several people in the scientific community believe it is possible each of LeBron's six pieces may be able to regenerate back into a full body. This would essentially create six identical LeBrons. In nature, several plants and animals including the common saltwater starfish can regenerate their bodies this way. If each of the six LeBron's were to make earn the proposed NBA capped salary of $16.6million, this would make LeBron the highest paid NBA player of all time with a total salary of $99.6million.