our breathtaking newsletter
Weekly gloriousness sent to your inbox.
Sunday, March 1st - 12:00 PM-4:00 PM

DERF Happy Hour
Keep checking back here to find out where the next DERF Happy Hour will be!
City of Lexington designates official couch burning locations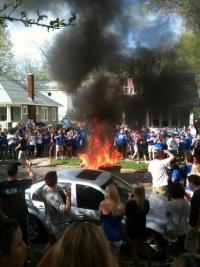 LEXINGTON, KY - Growing increasingly confident in their University of Kentucky Wildcats men's basketball team's chances of winning the national championship, the city of Lexington has begun preparations for the event. The city has put together a task force which has designated places within the town as official couch burning locations.

"Citizens are asked to review and comply with all of these new designations," said Lexington government works spokesman Phil Sorkan. "We have had quite a few problems in the past with indiscriminate couch burning. The last spate of couch fires resulted in fleeing bedbugs inhabiting some of the nicer parts of town, and we would definitely like to avoid that. Also, these designated areas have been set up to strategically light up the entire city, potentially making Lexington viewable from outer space, where I am sure, any alien life forms must be Kentucky Wildcat fans."

Student housing in and around the UK campus will be allotted a relatively small patch of land for couch burning. "We believe that spreading the burning couch wealth around town will help everyone enjoy it more," said Sorkan. "We are offering free bus rides for students, and their couches, to different official couch burning locations around town. We do ask that the students be reasonably sober, and that the couches not be on fire during the actual bus ride."

There are many rules in place to ensure that the joyous occasion of a massive burning of couches does not turn into a disaster. "We would like to immediately caution citizens about several things," said Public Safety Director Andy Bloch. "First of all, couches are the only items of furniture allowed to be set ablaze. We will make some exceptions for davenports and chaise lounges, but only with prior approval and signed paperwork from city hall. Also,, price gouging on used couches in this atmosphere is not only immoral, it can also result in stiff fines."