our breathtaking newsletter
Weekly gloriousness sent to your inbox.
Thursday, July 11th - 3:00 PM-9:30 PM

DERF Happy Hour
Keep checking back here to find out where the next DERF Happy Hour will be!
Marvin Lewis' wife sick of constant throwing of challenge flag around house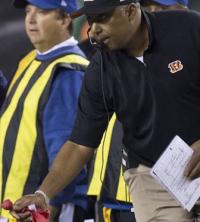 CINCINNATI, OH - Despite a winning record and a hold on first place in the AFC North, head coach Marvin Lewis still faces criticism from many. The criticism is strongest, it seems, from Mrs. Peggy Lewis, who has expressed extreme displeasure with Marvin for constantly throwing a red challenge flag around the Lewis home.

"I suppose it used to be cute," complained Mrs. Lewis. "But I have had quite enough of his constant tossing of the red challenge flag. It's gotten worse since the game against Tampa Bay, I think that made him think he's the greatest challenge flag tosser in the history of the NFL. Well, I'd much rather he be the greatest "do the yard work and put up the Christmas decorations without complaining guy" in the history of the NFL. Last time I asked him to take the garbage out, a red flag came whizzing by my head and he told me he had at least an hour until the garbage truck showed up."

The red challenge flag has been flying around the Lewis home for several years now, for a variety of reasons. "He's thrown it at the TV to let me know it's time for him to watch Survivor," Mrs. Lewis explains. "He threw it once in the bedroom, and demanded to see video evidence that he was hogging the covers. One year at Thanksgiving, he threw it because he didn't get enough gravy on his mashed potatoes. The flag landed in the green bean casserole and ruined it."

Mrs. Lewis has insisted that the constant challenge flag throwing be stopped. "He said it's just part of his nature," she says. "But it needs to change. I wish I could go back in time and throw a couple of red challenge flags during our vows. Don't get me wrong, I think its great that he helped win the game against Tampa Bay by throwing the flag in the final minutes. Although, it would have been even better to just go ahead and beat Tampa Bay by 20 points like a good team is supposed to instead of needing the refs help."