our breathtaking newsletter
Weekly gloriousness sent to your inbox.
Thursday, April 2nd - 6:00 PM-8:30 PM

DERF Happy Hour
Keep checking back here to find out where the next DERF Happy Hour will be!
Marvin Lewis dejectedly confirms he will not be fired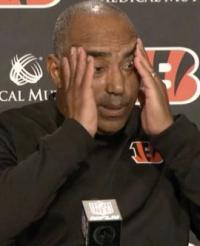 CINCINNATI, OH - Following speculation and calls for his dismissal, Marvin Lewis has dejectedly confirmed that he will not be fired as head coach of the Cincinnati Bengals. Lewis, head hung low, confirmed that he will remain at the helm of the team for the indefinite future.

"Life doesn't always turn out how you want it," said an obviously heartbroken Marvin Lewis. "Sometimes, no matter how hard you try and how much effort you put into something, it just does not go your way. So, yeah, even though I thought this might finally be the time for me to be called into the office and told to pack up my things, this just isn't going to be the year."

When asked to speculate as to if and when a firing may come, Lewis became even more despondent. "It might not be in the cards for me ever," said Marvin while choking back a tear. "Some coaches had it easy, and getting fired from this organization was basically handed to them on a silver platter. Dave Shula and Bruce Coslet were good guys, don't get me wrong, but I think that by now I've put in the work and effort to be fired five or six times."

When asked how being snubbed from being fired after the 2014 season would impact his next season coaching the Bengals, Lewis remained determined and hopeful. "No matter what life hands you, you've got to keep fighting," he said. "So, during the 2015 season I will be putting forth the same effort you've seen from me all along and at this point next year, we can talk about it again. After, of course, we've been defeated in the first round of the playoffs, I've aged another fifteen years, and completely lost my voice, not to mention my will to live."