our breathtaking newsletter
Weekly gloriousness sent to your inbox.
Sunday, June 24th - 6:30 AM-10:00 PM

DERF Happy Hour
Keep checking back here to find out where the next DERF Happy Hour will be!
Mike Brown learns he is adopted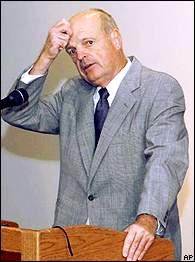 CINCINNATI, OH - A special team of DNA researchers have determined what many Cincinnati Bengal observers have always suspected. Mike Brown is not the son of Bengals founder and football legend Paul Brown but is, in fact, adopted.

"We can say with absolute confidence that Mike is not the son of Paul Brown," said research lead Dr. Timothy Bates. "Other research is being done into his exact origins, which we tentatively believe to be mostly human. We have seen some initial reports suggesting that he is most likely from a family that traveled quite a bit, perhaps as part of a circus. But we want to let everyone know that, scientifically, the only thing Mike Brown inherited from Paul Brown is his taste in hats."

The research was conducted at the request of a large faction of football historians, sports journalists, and Bengal season ticket holders after years of speculation that Mike Brown's lack of football skill was not only lacking because of a failure to learn, but also because a lack of hereditary propensity. Brown's DNA pool was found to be more likely to excel in the fields of vegetable stand proprietorship, sewer maintenance, food additive manufacture, longshoreman operations, clam digging, goat farming, janitorial arts and small animal grooming than any sports related occupation.

After hearing the news, a somewhat downtrodden Mike Brown tried to keep an upbeat attitude. "I have to say I am somewhat shocked," said Mike Brown of the news. "I'll always think of him as my Dad and always call him my Dad. Although, I guess it should have known something was up because instead of calling me 'son,' he always referred to me as 'dumbass.' There is little to do except move forward. Speaking of which, I'm going to be needing a lot of therapy, so it's time to raise ticket prices."