our breathtaking newsletter
Weekly gloriousness sent to your inbox.
Wednesday, April 25th - 6:30 PM-8:30 PM

DERF Happy Hour
Keep checking back here to find out where the next DERF Happy Hour will be!
Mike Brown organizes Occupy Paul Brown Stadium initiative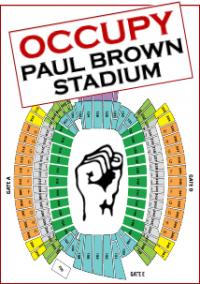 CINCINNATI, OH - Bengals owner Mike Brown has announced the formation of the Occupy Paul Brown Stadium group. Brown hopes the group will achieve several goals, most notably, actually getting people to visit the inside of Paul Brown Stadium.

"I call upon citizens from around the country to take part in this bold group," said Brown. "Wherever you are, whatever you are doing, the time has come to drop everything and Occupy Paul Brown Stadium. Be advised, there is plenty of parking available, and we accept credit cards for the daily parking rate thanks to the Occupy the Paul Brown Stadium Parking Garage initiative."

Mike Brown plans for the group to occupy Paul Brown Stadium around the clock for the foreseeable future. "Twentyfour hours a day, seven days a week," he declared. "Including game days. Well, especially game days. It might frighten the players a little bit to see people in the stadium, but that is a small price to pay. Speaking of paying, the occupiers will naturally be required to buy a ticket for game days, but I'm sure they'll be happy to do so."

Brown has made preparations for the occupiers as he anticipates their arrival. "I heard that a lot of these 'occupy' types are a bit on the hippy side," he said. "So our concession stands will be serving veggie tacos for ten bucks. A bargain of a price, and I'm happy to do it because I am a man of the people."
Related Stories