our breathtaking newsletter
Weekly gloriousness sent to your inbox.

Friday, May 24th - 9:30 PM-12:00 AM
DERF Happy Hour
Friday, Jun 21 - 5:30PM-9:30PM
Notre Dame Leprechaun admits to never meeting Smurfette girlfriend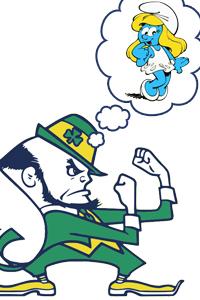 SOUTH BEND, IN - After much media scrutiny and speculation, the Notre Dame Leprechaun has admitted to never actually meeting his girlfriend, Smurfette. The couple's courtship has been mentioned repeatedly as a timeless romance, but now appears that it may be a fraud.

"I firmly believe our love to be real," explained a clearly distraught leprechaun. "Though we have never gazed into each other's eyes in person, our Facebook chat messages contain more love than you will find in the average marriage. She is my soulmate."

The Leprechaun then pointed to several pages of internet instant message conversations between him and Smurfette. The messages included long discussions about the couples future together. "I can't wait to stand before you as your blushing blue bride," read one of the messages from Smurfette. "And you will stand before me as my diminutive green groom, and together will will live together forever and make beautiful turquoise-ish teal children."

Not all of the messages expressed such lofty romanticism. Others were of a more direct and salacious nature. "That little white dress of yours is covering up everything I crave," read a message from The Leprechaun to Smurfette. "Baby, you've got me typing with one hand and the other firmly around my shillelagh. Not having you right here next to me is making me as blue as your cheeks."

Though it is easy to see how Smurfette could fall for The Leprechaun with his rugged good looks, charm, and devilish use of double entendre, some have wondered what he sees in a short bluish imp who has never even met. "She always knows just what to say," explains the Leprechaun. "I'm sure that maybe we'll meet one day, if only I could get her Papa Smurf to stop being so controlling. I am always so excited to see that she has sent me a message, and truly in love. I'm so glad that Manti Te'o introduced us."