our breathtaking newsletter
Weekly gloriousness sent to your inbox.
Saturday, June 23rd - 7:30 AM-12:00 AM

DERF Happy Hour
Keep checking back here to find out where the next DERF Happy Hour will be!
Four generations of Nittany Lion mascots allegedly molested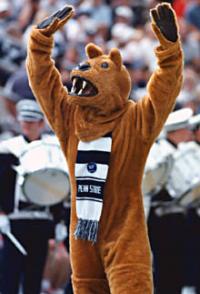 HAPPY VALLEY, PA - In an investigation conducted by local law enforcement in conjunction with the Penn State Daily Collegian newspaper, it is reported that four generations of Nittany Lion mascots claim to have been molested.

Allegations began with the release of a memoir from Nittany Lion mascot, Dale Ridge, who claimed to have been repeatedly taken advantage of during his1962-1964 tenure as the school's mascot. "It got to the point that I never felt comfortable removing the lion suit," stated Ridge.

Several generations of Nittany Lion mascots appear to be victims in what is being called the largest mascot molestation case in U.S. history. Penn State head football coach Joe Paterno claims desite difficulty hearing each molested mascot's muffled complaints in the lion suit, he still reported all incidents to the Director of Mascot Operations. Paterno was reluctant to speak on the subject, but did say, "Ever since we gave broads the right to vote, things have been wacky in this country. All I can do is look after my football team and I'll scream that out til they hear it in all 46 states of this great USA. Twenty three skidoo. Get off my lawn."

Attorney Craig Stone represents a multi-generational family of Nittany Lion mascots including a grandfather, father, and son from Harrisburg Pennsylvania. "This is an embarrassment for the college mascot community," said Stone. A nittany lion would actually be safer at a compound in Zanesville, Ohio than here in the football locker room at Penn State."