our breathtaking newsletter
Weekly gloriousness sent to your inbox.
Saturday, August 17th - 5:00 PM-12:00 PM

DERF Happy Hour
Keep checking back here to find out where the next DERF Happy Hour will be!
Randy Moss tells Titans he'll only catch passes from self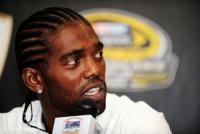 NASHVILLE, TN - After being picked up by the Tennessee Titans, wide receiver Randy Moss has informed the team that among his many demands, he will only catch passes that he throws to himself. This demand follows Moss's statement last week that he will only answer questions asked by himself.
Titans head coach Jeff Fisher was shocked by the demand. "I'm not really sure what that offensive alignment is going to look like," said Coach Fisher. "At first I thought it might be a good trick play, but the surprise is ruined since this news has been leaked to the press.
Moss, however, believes that the demand is perfectly within his rights as a superstar, and expects the plan to work out perfectly. "It's easy for a quarterback to get distracted," said Moss. "Especially when they are watching a perfect specimen like myself running down the field. Plus, who knows where that dude's hands have been, I don't want to handle the ball after he's been grabbing on it."
The wide receiver's other demands before signing with the Titans include a clause forbidding any fans at Nashville's LP Stadium from making eye contact with him, and a request that all brown M&M's be removed the state of Tennessee. "I can't handle them hillbillies all eyeballing me," explained Moss. "And getting rid of brown M&M's is the least this state can do to welcome me."
Moss believes that his requests are reasonable, saying "You look at guys who have been superstars in the past. I can't think of anyone who was as spectacular as me, but if there were any, they should have gotten what they wanted too."
This comes after several moves in his personal life in which Moss has insisted on doing things on his own. He has told his girlfriend that he will now only have sex with himself, and has cut ties with his insurance company after deciding that only he was allowed to check his prostate.
"I know they say that no man is an island," Moss explained. "I am not an island. I am several continents and oceans representing the entire world."