our breathtaking newsletter
Weekly gloriousness sent to your inbox.
Sunday, March 1st - 12:00 PM-4:00 PM

DERF Happy Hour
Keep checking back here to find out where the next DERF Happy Hour will be!
Ray Rice and Ray Lewis respond to disappointing Ravenís loss via murder and beatings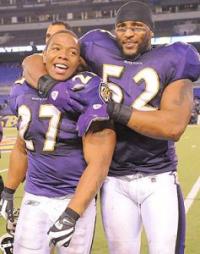 BALTIMORE, MD - Though they are no longer members of the Baltimore Ravens football team, Ray Rice and Ray Lewis remain loyal to their former squad. Their loyalty took a bit of an ugly turn recently, however. Following the Ravens last minute loss to the Cincinnati Bengals, Ray Rice and Ray Lewis responded with murder and beatings.

"Everyone knows I am a very intense guy," said retired Ravens linebacker Ray Lewis. "In fact, every television announcer at every Ravens game throughout my entire career pointed that out in every other sentence while broadcasting our games. Sometimes, my intensity gets the best of me. I guess I could have responded to that loss by drinking a beer and sulking for a while, but leaving a bloody trail and stacks of bodies in my wake just seemed like the right thing to do at the time."

Ray Rice was watching the Bengals-Ravens game at a local restaurant/bar near his home. "I was already in a bad mood because they'd run out of ribletts," said a devastated Ray Rice. "Worst thing in the world is ordering the all you can eat ribletts and all of a sudden they tell you they're all out. They tried to buy me off with some potato skins and nachos, but that stuff ain't nothing but filler. I was there looking to eat protein. Gotta stay in shape in case I get back into the NFL. Anyway, that punk ass red head quarterback scored a touchdown, so it was pretty natural for me to start slapping on folks."

There has been no word on the legal ramifications of the former Ravens actions, but Baltimore legal expert Richard Dillon believes charges are unlikely. "Ray Lewis just has a way about him that keeps him from facing consequences," said Dillon. "I think it's just his charm and winning smile. And as far as Ray Rice, the Applebees where these beatings took place did not have an elevator with a security camera, so if local authorities are anything like the NFL, it's like it never happened."