our breathtaking newsletter
Weekly gloriousness sent to your inbox.
Saturday, May 26th - 1:00 PM-1:00 PM

DERF Happy Hour
Keep checking back here to find out where the next DERF Happy Hour will be!
Reds fans on pace to break MLB record for complaining about a first place manager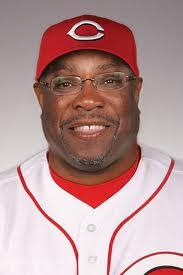 CINCINNATI, OH - As the Cincinnati Reds continue to play great baseball and build on their lead in the NL Central, their fans are on a record breaking quest of their own. The 2012 Cincinnati Reds fans are on a pace to shatter the all time major league baseball record for complaining about a first place manager.

Fans have been vocal in their criticism of Reds manager Dusty Baker beginning in spring training, and have shown no sign of letting up. "This is a fan base that does not know the meaning of the word quit," said baseball historian Peter Rhodes. "They show a drive for complaining that the baseball world has not seen since the turn of the century. I think they may shatter this record to the point where it is unbreakable."

"I am not exaggerating when I say that Dusty Baker is the most disgusting human being to ever walk the planet," said Cincinnati Reds fan David Oberhelman. "This team would be undefeated if it were not for his pathetic leadership. Every out this team has made has been his fault, every run the opponents have scored has been his fault, and every pitching and batting victory we've had have been despite him. Other than that, he's fine I guess." This sentiment and very similar statements about Baker's managerial skills are the frequent topic of discussion on internet message boards, sports radio shows, and throughout tristate office water coolers.

According to recent polls, the Cincinnati area is one of the most active per capita regions in the country. Add that to anecdotal evidence that ranks Cincinnati among the crankiest cities in the nation and the resulting displeasure that has been flooding social media sites is not at all surprising. Dusty Baker related Twitter hashtags appear on a regular basis including: #ihatedusty #icanmanagedustycant and #dustyistryingtodestroyus.

"This team is lucky to be over .500," said Reds fan Jon Bailey. "If Dusty were not making all of his stupid managerial decisions, we probably would have already won the World Series in late May. I just hope that when the Reds do win the World Series, Dusty does not come out of the dugout to celebrate. But if he does come out, I hope he falls down and gets trampled and swallows his toothpick. Mind you, I'm speaking as a baseball expert, and this attack is not personal."