our breathtaking newsletter
Weekly gloriousness sent to your inbox.
Saturday, May 26th - 1:00 PM-1:00 PM

DERF Happy Hour
Keep checking back here to find out where the next DERF Happy Hour will be!
Shin-Soo Choo underwhelmed by reception from Cincinnati\'s Little Korea neighborhood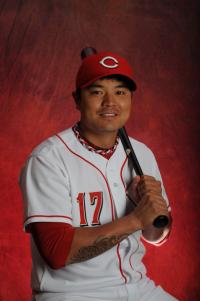 CINCINNATI, OH - Despite fitting right in with his teammates on the field, new Cincinnati Reds outfielder Shin-Soo Choo has been underwhelmed by the reception he's received in Cincinnati's Little Korea neighborhood.

"I expected a parade," said Choo. "But I would've taken a few high fives or maybe a couple free beers and some homemade kimchee. Instead they don't really pay any attention to me."

Cincinnati's Little Korea neighborhood runs from approximately the beginning of 700 Elm street to approximately 702 Elm street is known for its festive colors, varied residents, and large sign that reads, 'Sung Bistro'. According to the 2010 census, many residents of the neighborhood tend to work in the service industry as waiters, cooks, and busboys. Other residents tend to describe themselves as 'diners', 'drinkers', or 'people waiting for a table'.

"I'm disappointed to hear that Mr. Choo expected more of a welcome," said Karen Pinkerton, a hostess in Little Korea. "I believe I greeted him in much the same way I greet everyone: by asking how many are in his party. Hopefully he'll return and I'll try to kick up the charm a little bit more."

Though Choo has not ruled out returning to Cincinnati's Little Korea neighborhood, he has already sought a few Little Korea neighborhoods in surrounding counties and the suburbs. "I really like the Little Korea neighborhoods in Fairfield and Eastgate," said Choo. "Or, as you call them in English: aisle 37 of Jungle Jim's International Market."