our breathtaking newsletter
Weekly gloriousness sent to your inbox.
Saturday, November 16th - 5:00 PM-10:00 PM

DERF Happy Hour
Keep checking back here to find out where the next DERF Happy Hour will be!
Local man diehard Super Bowl fan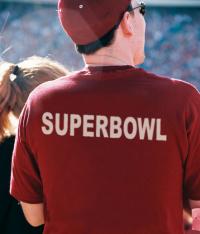 CINCINNATI - Montgomery resident Tim Walsh is known throughout his neighborhood as a Super Bowl fanatic. "I've always been a strong supporter of the Super Bowl. I am much more of a fan of the Super Bowl than the teams that are playing. In fact I don't even know who's playing. The Super Bowl is bigger than the teams. I'm a simple man and I root for the Super Bowl!"

On Super Bowl Sunday neighbors reported seeing an enthusiastic Walsh in his front yard pumping his fist and yelling, "Number 1! Super Bowl is #1! Whoo hoo!"

In the weeks leading up to the Super Bowl Walsh wears his Super Bowl t-shirt to work. Walsh's coworkers say his enthusiasm for the Super Bowl is infectious and often leads to spirited workplace discussions about possible outcomes of the game.

When asked which quarterback he favors, Walsh responded, "Never heard if either one of those guys. I dont know their numbers. The only number I care about is XLVIII."

In the NFL off season Walsh is a strong supporter of college sports and frequently wears a t-shirt featuring the word 'College'.