our breathtaking newsletter
Weekly gloriousness sent to your inbox.
Wednesday, February 19th - 5:00 PM-9:00 PM

DERF Happy Hour
Keep checking back here to find out where the next DERF Happy Hour will be!
Bill Belichick admits hiding video cameras inside Tim Tebow's church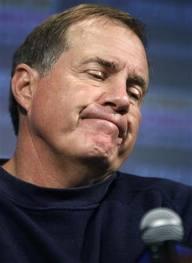 DENVER, CO - An NFL investigation has led to New England Patriot's head coach Bill Belichick admitting to using secret video cameras to tape inside Tim Tebow's church. Belichick has apologized for hiding the cameras, and has promised that this is the very last time he will engage in unsportsmanlike, borderline illegal activity.

Belichick had his assistants place several cameras in locations around the church in hopes of learning as much as possible about Tebow's secrets to leading the Denver Broncos to victory. It is not known how much information was gathered about Tebow from the cameras, although Belichick could be seen on one knee with his hand to his forehead before his press conference, obviously attempting to gather strength by 'Tebowing.'

"Though I am terribly sorry to have been caught, I would like everyone to understand that I do everything for my team," said Belichick. "I mean, take a look at how handsome my quarterback is. I only wanted to make him happy. Sure he's still adorable when he's sad, but who would ever want to make him cry?

Tim Tebow is now looking to put the incident behind him. "I have an amazing capacity to forgive," said Tim. "Some, in fact have called it Christlike. If, someday, I were to do something wrong, I would hope that whoever I harmed would forgive me. I just hope that Coach Belichick learned something good from secretly videotaping me in church. Next time, he can just come in the front door and worship with us instead. I would be happy to be his mentor. I am also pretty handy with a knife if he's looking to be circumsized."