our breathtaking newsletter
Weekly gloriousness sent to your inbox.
Monday, April 6th - 1:00 PM-1:00 PM

DERF Happy Hour
Keep checking back here to find out where the next DERF Happy Hour will be!
Tim Tebow thankful for Pope\'s private quarterback instruction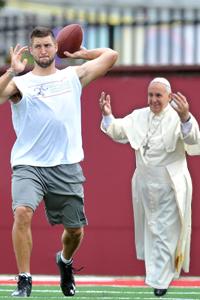 WASHINGTON, DC - As Pope Francis begins his visit to the United States, many have secured spots at events he will attend while others hope to simply get a passing glance at the Pope. One citizen, however, has already been the recipient of a papal visit, and Tim Tebow has expressed thanks for the private quarterback instruction he received from Pope Francis.

The private meeting between Tebow and Pope Francis took place at a remote high school football practice field in the suburbs of Washington DC. "I am thrilled to have made it to America," said Pope Francis. "And glad to have had the opportunity to have met with one of Americas most influential spiritual figures. And, as far as the opportunity to work with young Tim on some of his mechanical flaws, particularly his propensity to over-stride, well, it was my pleasure."

"The Pope made some great suggestions," said Tebow. "I am extremely thankful for the time and effort he put into giving me some private quarterback instruction. And, though I am really very thankful, I would like to point out that I think he was really overly critical about me being stiff-necked in the pocket. Just goes to show that the Pope really isn't infallible, I guess. But everything else he taught me was spot-on. I hope he appreciated that I returned the favor by giving him tips on how to be more righteous and godly."

The meeting between Tim Tebow and Pope Francis is believed to be the first such encounter since 1969. In that year, Pope Paul VI had a workout session with New York Jets quarterback Joe Namath. Namath and the Jets went on to win Super Bowl III, resulting in what is reported to be a rather large win on a wager Pope Paul VI made on the game while in Las Vegas. Further sources say he reportedly then doubled his winnings at the craps table.