our breathtaking newsletter
Weekly gloriousness sent to your inbox.
Thursday, April 2nd - 6:00 PM-8:30 PM

DERF Happy Hour
Keep checking back here to find out where the next DERF Happy Hour will be!
Tom Brady's Super Bowl MVP truck tires underinflated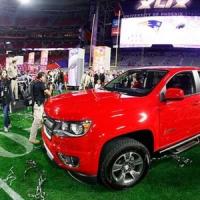 GOODYEAR, AZ - As winner of the Super Bowl most valuable player award, New England Patriots quarterback Tom Brady was the recipient of a 2015 Chevy Colorado pickup truck. Brady was disappointed to discover, however, that the all four of the Chevy's tires had been underinflated.

"It's kind of a bummer," lamented a clearly saddened Brady. "After the terrible two weeks I've had. I spent day after day answering questions that had nothing to do with how great I am, how handsome I am, and how hot my wife is. They all wanted to know about some scandal. Then I go out and win the Super Bowl MVP and end up with a truck that I can't even drive off the field without putting in a call to Triple A for some compressed air or maybe a tow. My life is in a bit of a shambles."

Brady was quick to get over the disappointment, deciding to hand the truck over to his teammate, Malcolm Butler. "Malcolm played a heck of a game," Brady said. "Thanks to his interception in the final seconds of the game, we may have never won. Actually, we probably would have still won. I hear that if that pass play didn't work, the Seahawks coaching staff was going to run a tip drill on the next play. But still, Malcolm came through with a clutch interception, and that's why I'm not only going to give him the truck, but I'm going to include four cans of fix-a-flat."

No one is certain how the tires lost air pressure. However, the NFL is looking into security footage which is rumored to show an elderly man taking the truck into a bathroom for ninety seconds.