our breathtaking newsletter
Weekly gloriousness sent to your inbox.
Monday, April 6th - 1:00 PM-1:00 PM

DERF Happy Hour
Keep checking back here to find out where the next DERF Happy Hour will be!
Santa's reindeer replaced with lithium-ion fuel cells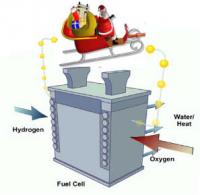 NORTH POLE - Elves in the North Pole engineering department have spent the last year working on many projects to reduce energy consumption. The largest of these projects appears to be complete as it has been announced that Santa's sleigh will now be pulled via the power of lithium-ion batteries.
The North Pole Green Initiative began researching the possibility of using lithium-ion to power the sleigh earlier this year. It had been determined that Santa's fleet of reindeer left an inordinately large carbon footprint, leaving the North Pole in danger of violating the Kyoto treaty. Without the new initiatives, Santa was in danger of international sanctions and fines that could have crippled his operation.

"Ho ho ho, it will be just a bit sad to make my trip without my loyal reindeer," said Santa. "But despite their quaint charm, they are eating, pooping, and flatulating the earth away. It really hits home here in the North Pole, I wake up and look at that giant hole in the ozone every morning."

Recent studies have shown that the amount of land needed to feed and keep reindeer make their environmental impact almost exactly equal to that of a gas-guzzling SUV. The fate of Santa's reindeer is not known at this time, though it has been suggested that they would make excellent organic compost. North Pole officials have announced, however, that Rudolph will continue to be employed by Santa. His famous nose will now be used as the main source of low emission light in the North Pole workshops.